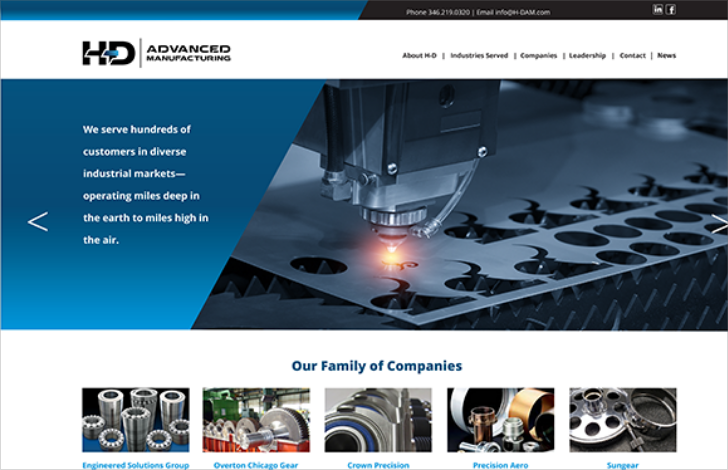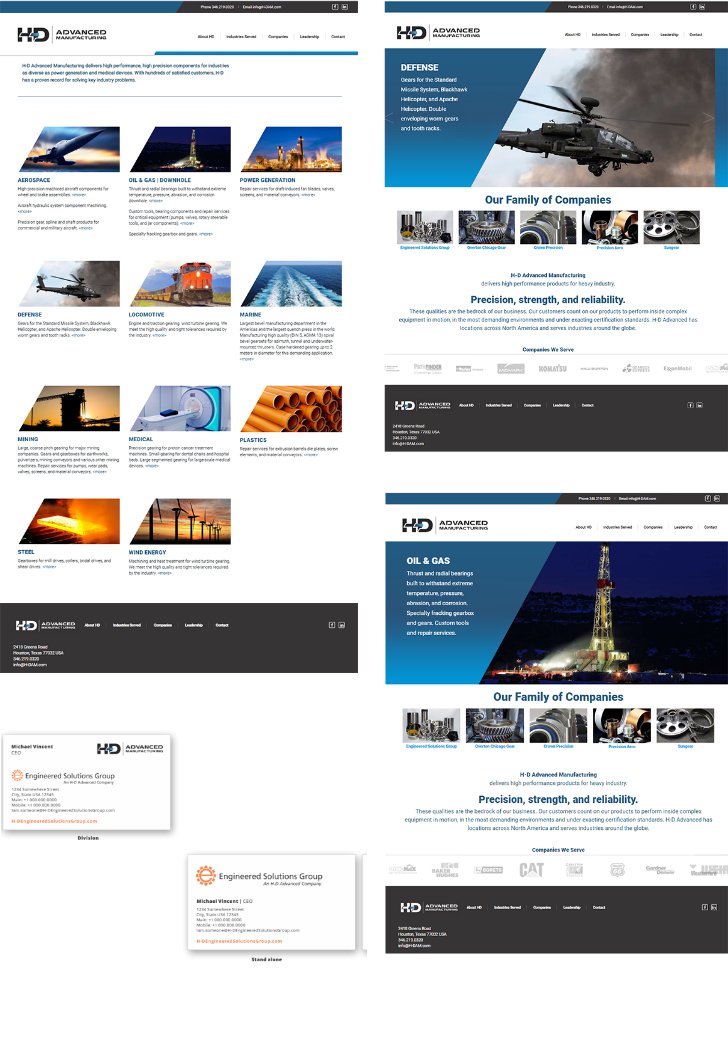 H-D Advanced Manufacturing
H-D Advanced is an investment company with holdings focused on precision manufacturing and machining for heavy industry. The company currently has five businesses with more than 460 employees across 10 locations in North America. These businesses serve diverse industries around the globe including oil and gas, mining, aerospace, defense, power, marine, locomotive, and medical. The companies deliver high performance products to perform inside complex equipment in motion, in the most demanding environments and under exacting certification standards in heavy industry.
H-D was looking for assistance in combining all its companies under one parent company name. Then rethink and retool the brand to better educate its customer base on its expansive line of product and service offerings. In addition, they wanted to increase the visibility and viability of each holding for possible future sale.
Initially, discovery and hierarchy research took place to discuss placing the companies either as business units in two divisions of H-D or treat them as stand alone companies under the H-D Banner. After extensively exploring both options, an executive decision was made to utilize the existing brand equity of each individual company with each monikered "An H-D Advanced Company".
New messaging was conceived to cover a broader stroke of industries, thus allowing for future growth of the company. We serve hundreds of customers in diverse industrial markets — operating miles deep in the earth to miles high in the air.
New website content, imagery, design, hierarchy and navigation followed that leveraged the strengths of H-D's diverse holdings and better informs their audience of the H-D companies offerings in a more engaging and structured way.
DISCOVERY
RESEARCH AND NAMING
LOGO DESIGN
BRAND STRATEGY
HIERARCHY DEVELOPMENT
MESSAGING AND VOICE
WEBSITE DEVELOPMENT
BRAND IMPLEMENTATION
PHOTOGRAPHY