Who we are
We are a strategic and highly creative team with an eye for impeccable execution. We create brand experiences that connect with your audience to drive your business forward.
We create a memorable and effective image of your company by combining the right tools, techniques, talent and touch points to resonate with your prospective clientele.
Your work starts with us. We have decades of hands-on marketing and publishing experience working with promising startups to Fortune 500 companies. But creative, forward-thinking leadership is just the beginning of our experience. We build effective teams from a pool of expert talent with a passion for creative problem solving. People driven by curiosity, creativity and results – highly talented designers, illustrators, animators, writers, UX and UI developers, digital experts and marketing strategists. Business professionals we have worked with for a long time. Creative professionals that continually deliver effective, high caliber work and the results you need to help your business grow.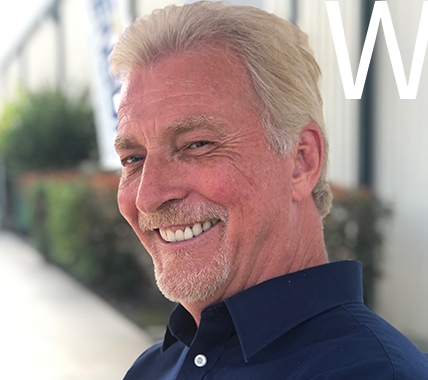 Paul Westfall | Principal
During the last 30 years, Paul has held many key management positions in both agency and corporate marketing departments serving diverse industries and clientele. Having worked on both agency and corporate client sides has given him an unwavering desire to first fully understand a client's business and customer base and then use that knowledge to implement well-grounded, forward- thinking branding and messaging concepts that work harder and smarter for his clients. A creative idea guy who uses the left side of his brain, too, Paul mixes his artistic vision with logistical abilities to build and guide creative teams that make big things happen for clients large and small.
B2B – Built for Business
"Our team really believes in B2B. That it is not truly great creative unless it places the benefits of our client brands, consistently and cohesively, front and center with their customers and delivers memorable, relevant, measurable results."
Kari J. Writing and Content Specialist
Kari corrals words to inform and persuade. For 30 years she has put that talent to use for companies large and small. Kari is as comfortable writing technical articles as she is crafting pithy blogs. She finds the right voice and style for any subject matter and content type. Kari has undergraduate and graduate degrees from the University of Michigan.
Melanie W. Storyteller and Illustrator
Melanie loves to draw as much as she loves to write and brings her stories to life through both language and illustration. After years of doing illustration work to accompany news stories, she has plenty of experience turning your ideas into well-rendered and well-written realities. From intriguing storylines to detailed illustration, she works in both traditional and digital media.
Chris H. Digital Development Strategist
Chris is an IT guy with over 20 years of experience in information technology. Chris provides information technology consulting to small and mid-size companies and has also been involved with startups in social media, healthcare, and legal services. He utilizes has extensive knowledge to UI|UX teams in getting businesses running in the digital world.
Ken K. Video Production Storyteller
Ken is passionate about telling your story in an innovative and cinematic way. He consistently finds fresh, creative solutions to touch and motivate your audience. As a producer and director, Ken prides himself on the professional relationships he develops with his clients. He is tech savvy and well organized, with an eye for detail, and is committed to delivering superb client service.
Erik J. Marketing and Business Development Strategist
Erik has a 30-year career in computer software for the energy industry. He has an engineering degree from the University of Texas, and has held posts in sales, in sales management, as marketing director, and as a business development executive. Many companies have excellent products, but struggle to effectively bring them to market. Erik's passion is to help design and implement overall sales and marketing strategies that enable these companies to achieve their growth and profit objectives.
Scott P. Corporate Communications Specialist
Scott is a seasoned Marketing Communication Professional, with extensive experience planning and developing marketing communications to promote sales of company products. A highly creative leader with broad experience in branding, sales support and new product launch promotion, he is especially adept at translating technical concepts and features into easily understood customer value propositions and effective sales collateral.
Stephanie S. Multimedia Designer
With a BFA in Multimedia Arts and Design, Stepahanie puts her inspiration and knowledge to use producing creative digital content for clients such as NOV, Dell, BP, Schlumberger, and National Instruments. Stephanie assists with diverse multi-media needs, including animation, motion graphics, explainer videos, graphics and illustrations.
Lynne H. Graphic Designer
With her marketing degree in hand, Lynne always views good design through the analytic eyes of someone who understands the marketing concepts behind it. With over 20 years of experience utilizing design software to develop napkin concepts sketches , she can design you a logo, build your branding guidelines, lay out a website, develop print collateral, make a clever infographic, build an iconography set, or draw you something cool.
Rusty D. Graphic Designer and Production Specialist
If you can't find him diligently working on your project, he may be restoring an old classic in his garage. Rusty is a highly creative and multi-talented Graphic Designer with a 30+ year career in overseeing the creative production process throughout all phases of the project life cycle. Skilled at vendor resourcing and interfacing with multiple team members to create and implement production, he makes sure that customers get creative answers when they need them.