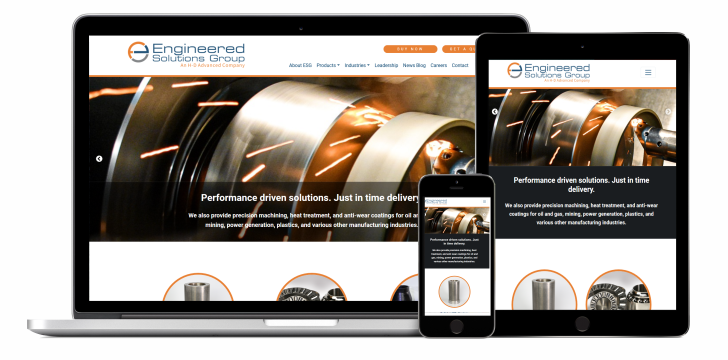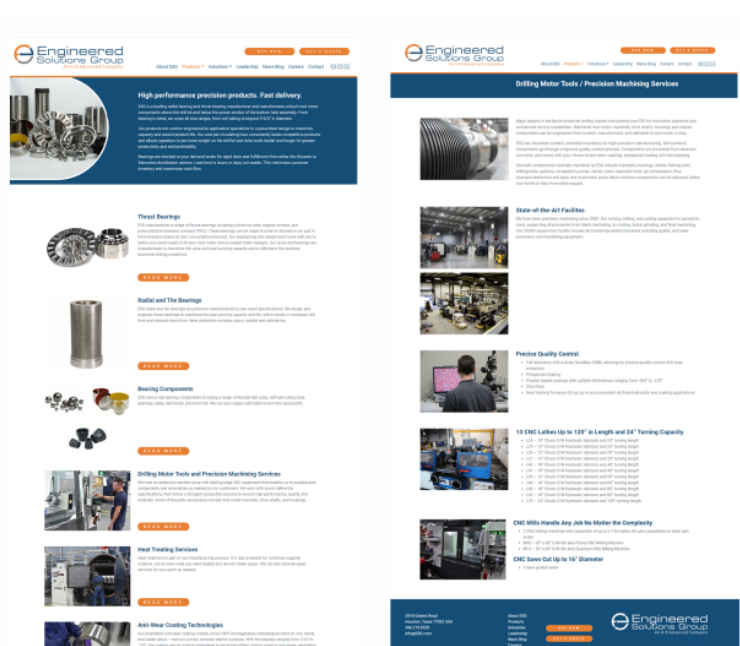 Engineered Solutions Group
ESG engineers and manufactures radial bearings, thrust bearings, and other critical components for the down hole oil and gas market. Their proprietary coatings and heat treatment solutions protect customer-supplied components such as mandrels, fishing tools, and conveyors in oil and gas, mining, power generation, and plastics industries.
The ESG group came to us for assistance in integrating four separate companies, iMech, IntelliFuse, Numeric, and Leading Edge Heat Treatment, into one singular brand. The main problem was client awareness of cross platform services offered by the companies. Although several other naming options were researched and proposed, due diligence revealed the ESG name was still viable for trademark for the Oil and Gas industry. An executive decision was made to not lose the legal equity from the previous branding of the Engineered Solutions Group.
A new circular logo was developed to emulate the combined strengths of multiple companies working together. Design wise, the logo also spells out the segmented letters E.S.G. This new brand and color palette were implemented into the new website and external facing touchpoints. Brand guidelines and templates were developed for internal staff to implement into sales presentations and technical documentation and continues today.
The end goal is to acronym the brand to ESG Products in an ongoing transitional campaign during the next two years. The new messaging and content is a first step towards this goal, as well as conveying the benefits of the now fully integrated ESG company. We are now ESG. Integrated resources. Innovative solutions. Fast turnaround.
DISCOVERY
LOGO DESIGN
BRAND IDENTITY AND STANDARDS
BRAND IMPLEMENTATION
MESSAGING AND VOICE
WEBSITE DEVELOPMENT
PRINT COMMUNICATIONS
PHOTOGRAPHY
VIDEOGRAPHY
PROMOTIONAL GIVEAWAYS
UNIFORMS AND WEARABLES
SIGNAGE