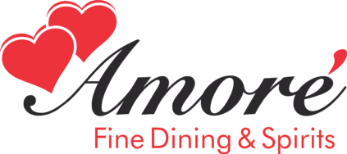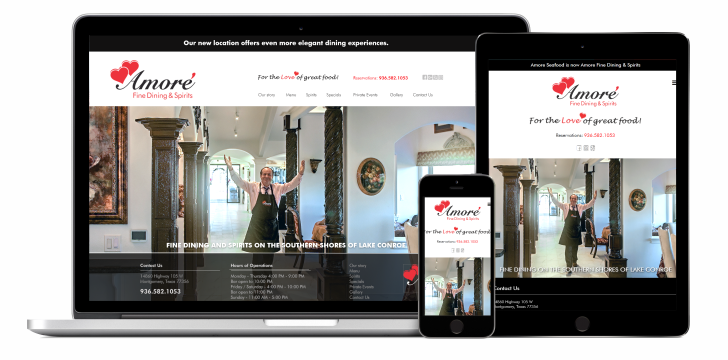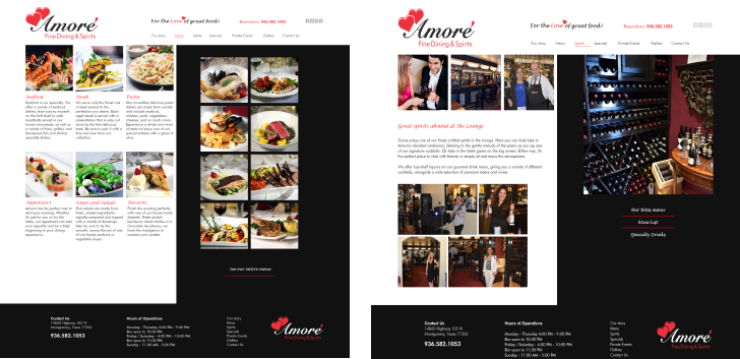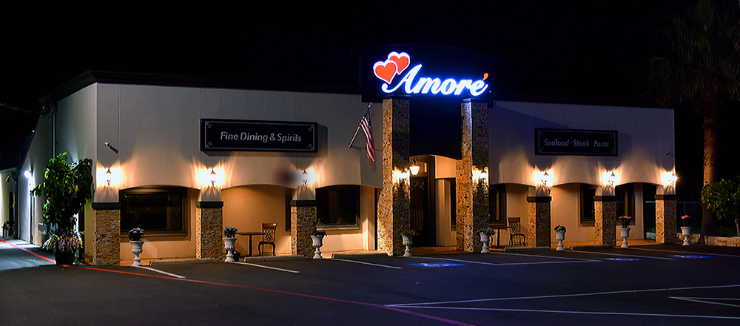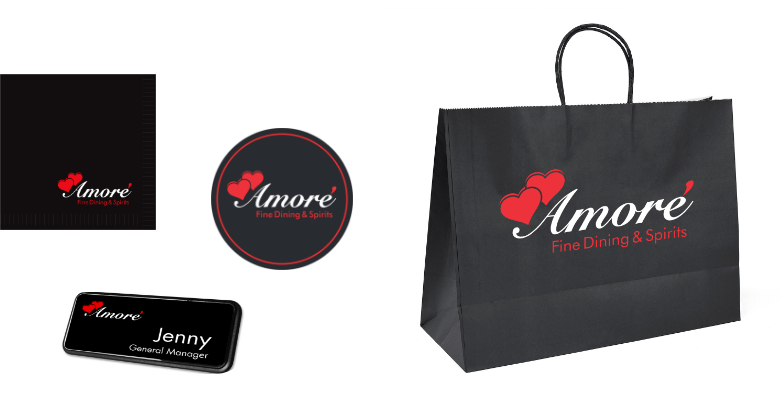 Amore Fine Dining & Spirits
Amore is a fine dining restaurant with an elite clientele on Lake Conroe in Montgomery, Texas. From humble beginnings in a small but intimate storefront in a shopping plaza building a reputation for serving fine food with outstanding, friendly service… they have grown to Amore Fine Dining and Spirits. The new name and location says it all – an upscale restaurant renowned for gourmet seafood, steak, pasta and libations, always served with  friendly, courteous, top tier service.
Amore came to us for guidance in upgrading their image and to take their brand and restaurant to the next level. We started with the design of the logo and creation of a distilled descriptor. This was applied to all digital and traditional touchpoints. More elegantly written content and photography were incorporated into the website and social media. The stylized logo, fonts and color palette were applied to everything from a simple coaster to outdoor signage and catering truck graphics.
But just as important, was the voice and message they wanted to speak to customers. Working closely with the owners, Alfred and Vjosa, we delved deep into what the business really meant to them. They said "Treating customers like friends, friends like family and food with love".
They have grown since their humble beginnings but there is one thing that has never changed, just like their new distilled message, their passion For the love of great food.
DISCOVERY
LOGO DESIGN
PRODUCT BRANDING
BRAND IDENTITY AND STANDARDS
BRAND IMPLEMENTATION
MESSAGING AND VOICE
WEBSITE DEVELOPMENT
DIGITAL ADVERTISING
PRINT ADVERTISING
PRINT COLLATERAL
ILLUSTRATION
PHOTOGRAPHY
PROMOTIONAL GIVEAWAYS
UNIFORMS AND WEARABLES
AUTOMOTIVE GRAPHICS
SIGNAGE